Javier González-Rocha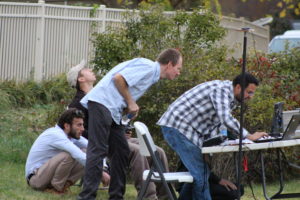 Javier González-Rocha is a first-generation Mexican-American born in the agriculture community of Watsonville, California. Perhaps most famous for its strawberries and Martinelli's apple cider, this small city is located in the heart of the Monterey Peninsula with a population less than 65,000 inhabitants who are predominantly of Latino backgrounds. He is the proud son of humble hard-working farm workers who migrated from the beautiful State of Michoacán, Mexico. During his formative years, Javier attended public school in the Pajaro Valley Unified School District where he developed a strong interest in math and science thanks to the engagement and encouragement of teachers who believed in his potential. Outside of school, Javier spent much of his time working alongside his parents picking strawberries in the Salinas Valley in efforts to contribute to the household expenditures. These combined experiences fueled Javier's desire to pursue a career in a STEM field as a means to affect positive change in his community.
After graduating from high school, Javier went on to pursue a Bachelors of Science degree in mechanical engineering at Sacramento State University. While pursuing his degree, Javier maintained an active profile partaking in both academic and service roles. Outside of coursework, Javier engaged in undergraduate research under the guidance of NASA Fellow,  Dr. Jose J. Granda and support of the California Space Grant Consortium. His research objectives were twofold: 1) to study the resilience of the International Space Station (ISS) to a range of dynamic excitations and 2) to determine the contributing factors to the low numbers of HispanicsLatin@s in aerospace engineering. In addition to undergraduate research, Javier also partook in numerous student leadership roles as an active member of Gamma Zeta Alpha and the Society of Hispanic Professional Engineers (SHPE) which encompassed and continuously emphasized the importance of academic, community, and professional development. These wide ranges of experiences would later serve as the incendiary influence attributing to Javier's desire to pursue an advanced degree to affect an even greater impact.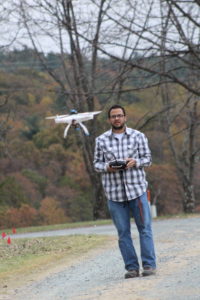 Today, Javier González-Rocha is a proud "Hokie" and Ph.D. candidate in the Department of Aerospace Engineering and Ocean Engineering at Virginia Polytechnic Institute and State University commonly known as, Virginia Tech, whose school mission is famous for the "discovery and dissemination of new knowledge". His research work as a member of the Virginia Tech Nonlinear Systems Laboratory (NSL) aims to develop wind atmospheric wind sensing capabilities using small multi-rotor unmanned aerial systems (UAS). Outside of the laboratory, Javier spends his time mentoring and advocating for first-generation students. After completing his degree, Javier is planning to seek a research position with a NASA laboratory actively engaged in flight research to continue to develop expertise in that field.