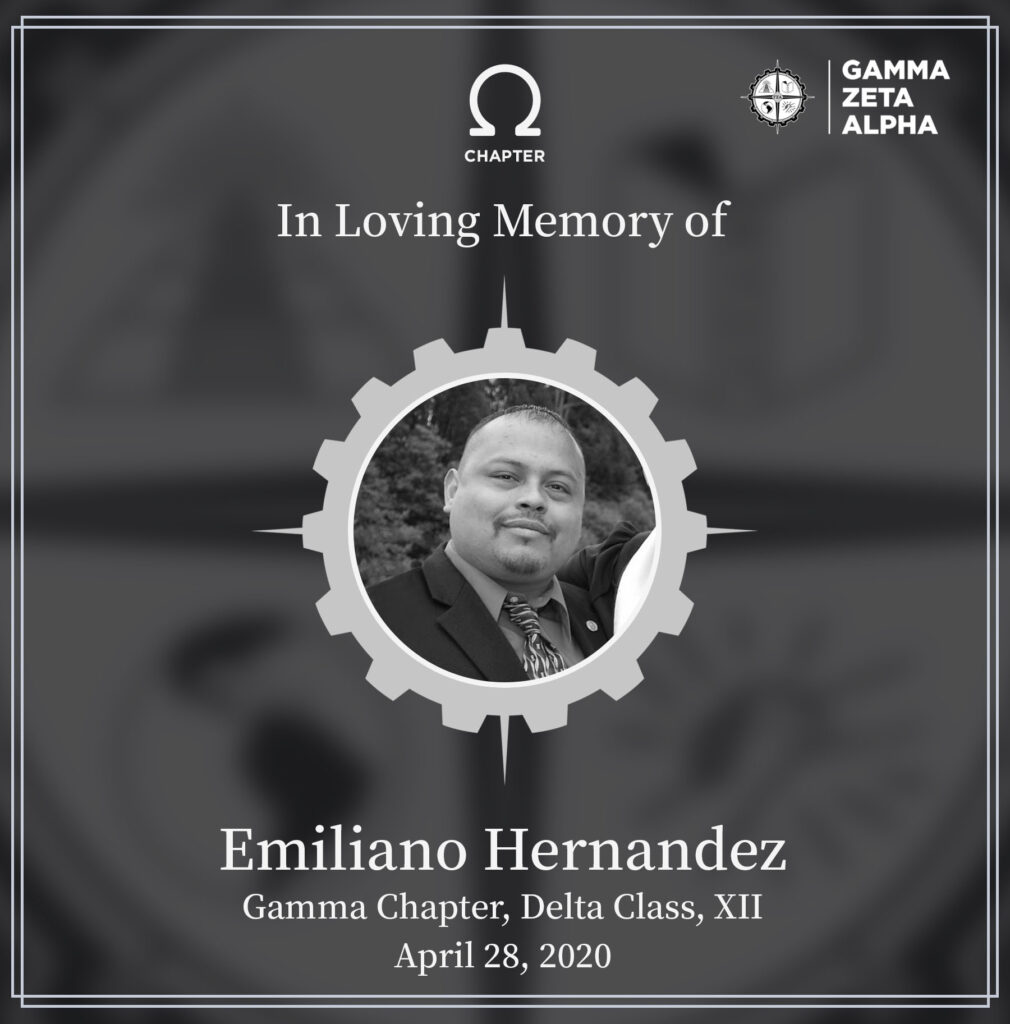 It is with great sadness to share that our dear brother, Emiliano Hernandez, recently passed away. He was a brother from the Gamma Chapter at UC Berkeley, member of the Delta Class, Numero XII where he crossed into the brotherhood on December 4,1996. He passed away at the age of 42, in Downey, CA on April 28th, 2020 due to complications related to the COVID-19 virus. Emiliano was born in Sacramento on November 27,1977 and graduated from McClatchy High School.
Emiliano, affectionately known as "Biggie" by many, was a fraternity brother, a father, a friend, a mentor, a son and he will be dearly missed. His legacy runs deep in the organization as he held various leadership positions as an active and as an alumnus. He served as president of the Gamma Chapter in 1999. Emiliano graduated from the University of California, Berkeley in 2000 with a BA in Political Economies of Industrialized Societies.
After graduating, he was elected to the Order of the Pyramid, Gamma Zeta Alpha's highest honor, for his countless contributions to the fraternity as well as his leadership in the formation of the National Association of Latino Fraternal Organizations (NALFO). Emiliano nurtured the founding of chapters throughout California and had a major influence establishing the Mu Chapter at Sacramento State and Tau Chapter at CSU East Bay. He also lived with brothers from the Zeta Chapter at San Diego State University where he forged lifelong friendships.
Emiliano made an impact beyond his years. He is survived by his mother Mercy Hernandez, daughter Frances Hernandez , brother Rafael Hernandez, sisters Grace Hernandez and Gabriela Inclan and is preceded by his father Ralph Hernandez. Emiliano's first and last priority was for the well-being of his daughter. Even up to his last days, all he cared about was the welfare of the two most important women in his life, his mother and daughter.
Emiliano, was an exceptional father, role model and worked to ensure that Frances had every opportunity to expand her horizons. Emiliano created lasting memories and experiences for his daughter by visiting colleges, taking sporadic short trips and always holding high hopes for her. Emiliano was the definition of a DAD – Dedicated And Devoted.
We are all saddened and shocked with his untimely passing. We send our deepest condolences to his mother, his daughter, his extended family and all our fraternity brothers who knew him and loved him.
Hug your loved ones and please say a prayer or a well wish for our brother, who has transitioned to the Omega Chapter where we will always remember him. Rest in peace, Brother Emiliano Hernandez. Please take care of your loved ones and follow all CDC recommendations to help fight and slow the spread of COVID-19. A GoFundMe page to assist the family with related expenses as well as support for his daughter's college education has been set up.